Sahar Ammar - about books and places.
I hold a heart deeply related and attached to the holy ancient sadness emanating from the heart of the Levant. I always feel that something hidden and strong binds me to that land.
Perhaps it's a feeling of a human being towards a nation suffering from occupation, perhaps it's the blood of Arabism, and perhaps it's something else but what I'm certain about that a part of my soul is hanging there, which makes me thirsty for that literature which is born from the deep wounds of the Levant, which lists tales of grief, joy, passion, hope, dream, revolution, determination from that land.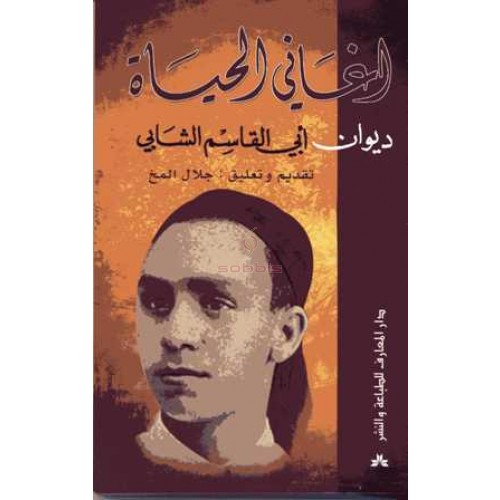 The song of life

The book is a collection of poems written by Abu-Qacem Echebbi (1909-1934) who is considered as one of the greatest poets in Tunisia. People surname him as the poet of freedom because of his poems talking about resistance, freedom, revolution, homeland, life, hope, childhood, love, nature, pain… One of his poems became the current National Anthem of Tunisia.
In this book, the poet formulated in poems and letters the human spirit renewable in different worlds between a childhood memories and a prime of youth, between the soul attached to dream and hope and suffering from pain and grief. He depicted the human being in the calmness of joy and sorrow, the anger and the determination of the revolution and the resistance against colonial and for the homeland.

A part of one of his revolutionary poems:

If the People Wanted Life One Day
If, one day, a people desire to live, then fate will answer their call.
And their night will then begin to fade, and their chains break and fall.
For he who is not embraced by a passion for life will dissipate into thin air,
At least that is what all creation has told me, and what its hidden spirits declare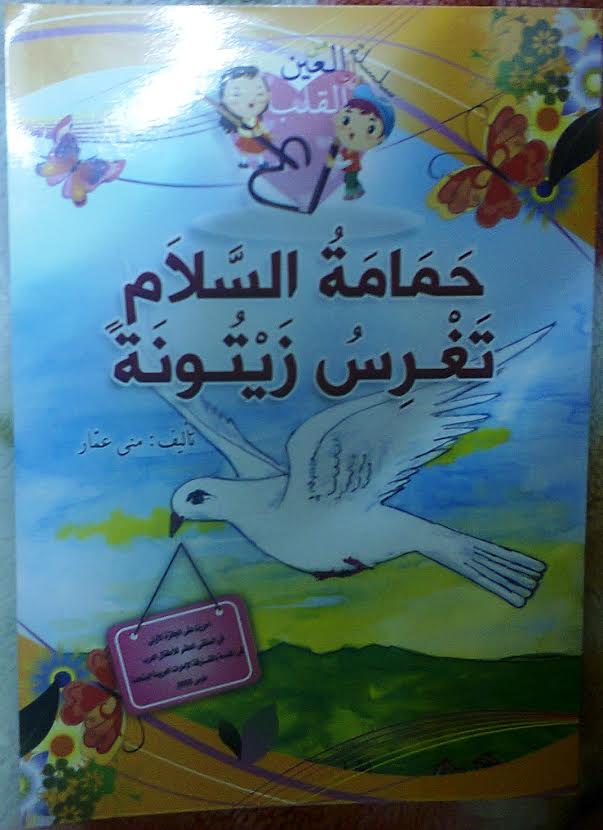 The dove of peace plants an olive

The book is a story written by Mouna Ammar. Mouna is my sister. She is 15 years old. She started writing and publishing at early age. She has been granted many awards both on national and international levels.
She represented Tunisia in the international forum for talented Arab children in Emirates in 2009 and she won the first prizes in the field of literature. She also won the first price in both the international competition of talented child Organized by the Supreme Council of Culture in Egypt in 2009. She published 5 books and many short stories in Arabic journals specially the Little Arab (in Kuwait).
In her book, the writer depicts a childhood dream to live in peace and safety away from the tragedies of war. She conveys the pain of childhood amid war, destruction and horror. And she expresses the aspirations of a child and his quest to live in an independent land enjoying the peace and tranquility.
In the story the symbols of nature and the pain of a child and his dreams to live in peace away from war are mixed in a wonderful text.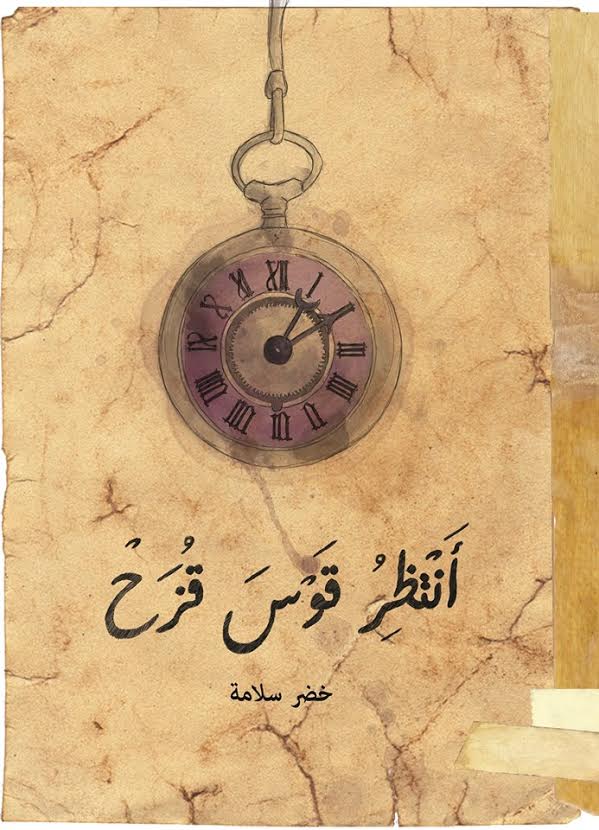 Waiting for the rainbow

The book is a novel written by Khodor Salameh. The writer is a Lebanese journalist and blogger. He is the editor of "Joan" electronic blog.
This book takes us on a travel through different times and places across two characters: Alia and Joseph, two lovers afflicted with a curse of immortality and living our history which is laden with wounds and dreams, with setbacks and victories. This book leaves us alone like Handalah (the Palestinian symbol) examining our history and looking to the horizon.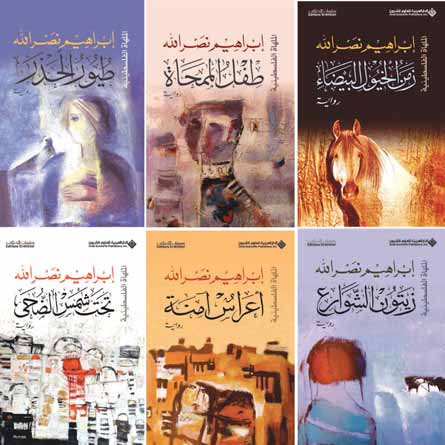 The Palestinian Comedy
It is series of 7 novels covering 250 years of modern Palestinian history. The book is written by the Palestinian writer and poet Ibrahim Nasrallah.
This literary work revives through the novels Palestine as an history, geography, spirit and hope. It depicts the meaning of presence of the Palestinian in the face of occupation and war.
The work snorkels in pain, mourning, homelessness, alienation, resistance, dream, hope... which represents the Palestinian epic.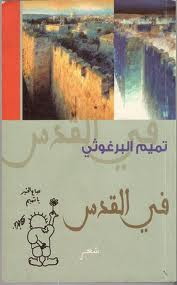 In Jerusalem

Tamim Al Barghouti is a Palestinian poet and political scientist. Tamim has four published poetry collections in Arabic, he also wrote a weekly feature on Arab culture, history and identity for the Lebanese Daily Star between 2003 and 2004. He worked at the United Nations, the Division of Palestinian Rights, the Department of Political Affairs in New York.

A part of his poem titled "In Al-Quds" which I personally admire:

In Al-Quds a Torah and an old man from upper Manhattan did come…
Its codes and rules a Polish kid teaches…
In Al-Quds an Abyssinian policeman closes a road in the market…
A machinegun on a twenty years old settler's shoulder is carried…
A skullcap greeting the Wailing Wall…
Blond European tourists, Al-Quds they never see…
Photos they take for each other or with a reddish woman vender…
In Al-Quds soldiers with their boots as if over the clouds they creep…
In Al-Quds on the asphalt we prayed…
In Al-Quds. Others are in Al-Quds, except you
 
(…)

In Al-Quds a smell there is, which establishes Babylon and India in a perfumer's shop…
By God a language it has, you will understand if you listen…
And it tells me when tear gas bombs they shoot at me: "Don't worry…"
Defused it gets when the smell of the gas wanes to tell me: "Did you see"…
In Al-Quds contradictions and miracles at ease it becomes and God's people won't deny…
As if cloth pieces new and old they check…
Wonders there by the hand are felt…
In Al-Quds an old man's hand you shake…
Or a building you touch…
A poem or two, you, the son of the noble, on your hand palms you shall find incised…
In Al-Quds in spite of the chain of nakabat (tragedies) a smell of childhood there is in the wind…
The wind of innocence…
In the wind between two bullets, pigeons you shall see flying announcing a state …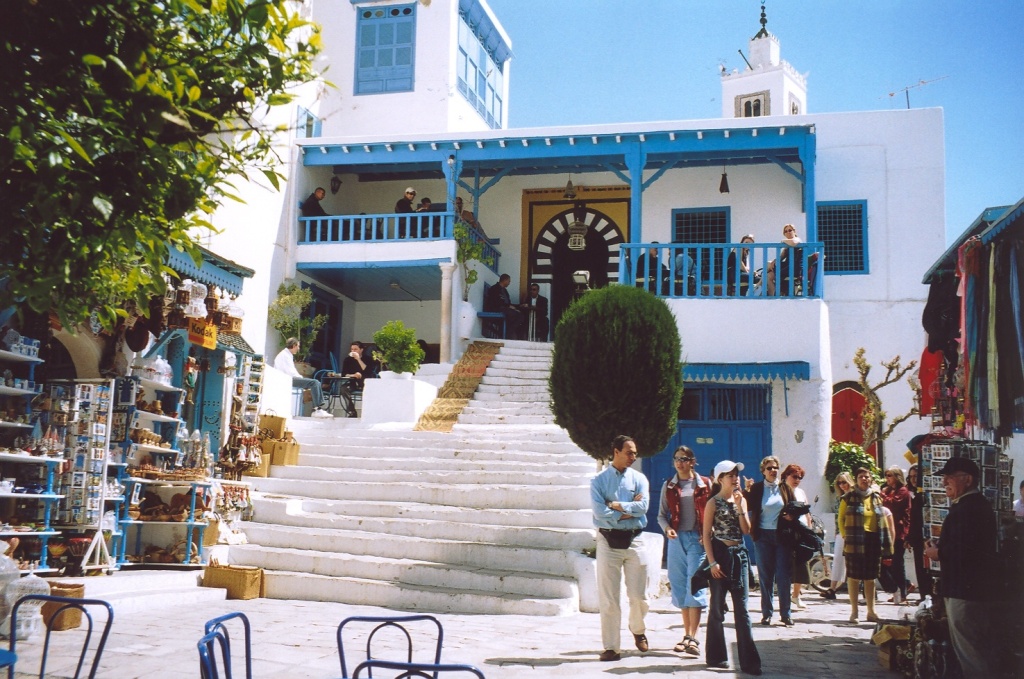 Sidi Bou Said

In Tunisia, the visitor can meet and discover all the features of nature: desert and oases, forests and olive, seas and beach, hut sun and snow…
Tozeur is the oasis palms and poetry. It's the birthplace of Abu-Qacem Echebbi. Tozeur is considered as the juwel of desert.
Sidi Bou Said in Tunis where you can feel the marriage of clouds and sky  in the blue and white coating places, windows, doors and homes.  This old and marvelous  city is hugging and  waving the sea from a mountain which was like a mustangs for its habitants since the 7th century BC
The Ancient City (Medina) in Sfax which dates back to the 8th century and lists the history of my ancestors, the nobility of history, glory of fences, resistance against the occupier, gorgeous architecture. And this is an opportunity to talk about one of my ancestors who lived in the ancient city. His name is Mahmoud Ammar. He lived in the 19 century. He was a poet and a musician. He wrote books about Astronomy. He composed many songs of Tunisian Malouf.